The videos below feature Jordan Peterson's daughter Mikhaila, wherein she provides information concerning her father's health relative to a severe negative reaction from medication. Jordan's health problems have sidelined him from all public appearances.
Peterson Family Update – September 2019 (08:08)
Jordan Peterson's daughter Mikhaila explains the sequence of events that led Jordan to decide to enter rehab to help deal with a negative reaction to medicine withdrawal. Also addressed is the status of Peterson's wife, who was critically ill earlier in 2019.
Peterson Family Update – February 2020 (02:40)
Mikhaila Peterson provides a brief update her Dad's health. After setbacks in rehab treatment, the family decided to travel to Russia for Jordan to receive treatment. Jordan spent time in intensive care, and came close to death on several occasions. Mikhaila stated that the next "family update" would come from Jordan himself.
LIKE FATHER, LIKE DAUGHTER Ft. Mikhaila Peterson, Prominent Health Vlogger Lion Diet Founder (26:24)
(From YouTube/WorldsApaRT/Feb 16, 2020) Medicine is one area where succumbing to authority is not just tolerated but widely expected. We still treat our doctors as priests, possessing a secret knowledge that's imparted under a millennia-old oath. But with so many medical dogmas having been proven wrong in recent years, can doctors ever be sure they are indeed doing no harm? To discuss this, Oksana is joined by by Mikhaila Peterson, founder of the Lion Diet, prominent food vlogger and daughter of the Canadian psychologist, Jordan Peterson.
The Mikhaila Peterson Podcast 9 – Jordan B. Peterson – Family Update June 2020 (56:48)
(From YouTube) Welcome to the Mikhaila Peterson Podcast, episode 9. This is a brief podcast with my dad Jordan Peterson about what happened to him and my family in the last year.
The full YouTube notes contain a description of Akathisia as well as many other helpful links.
Here are two pictures from February 2020, in Russia: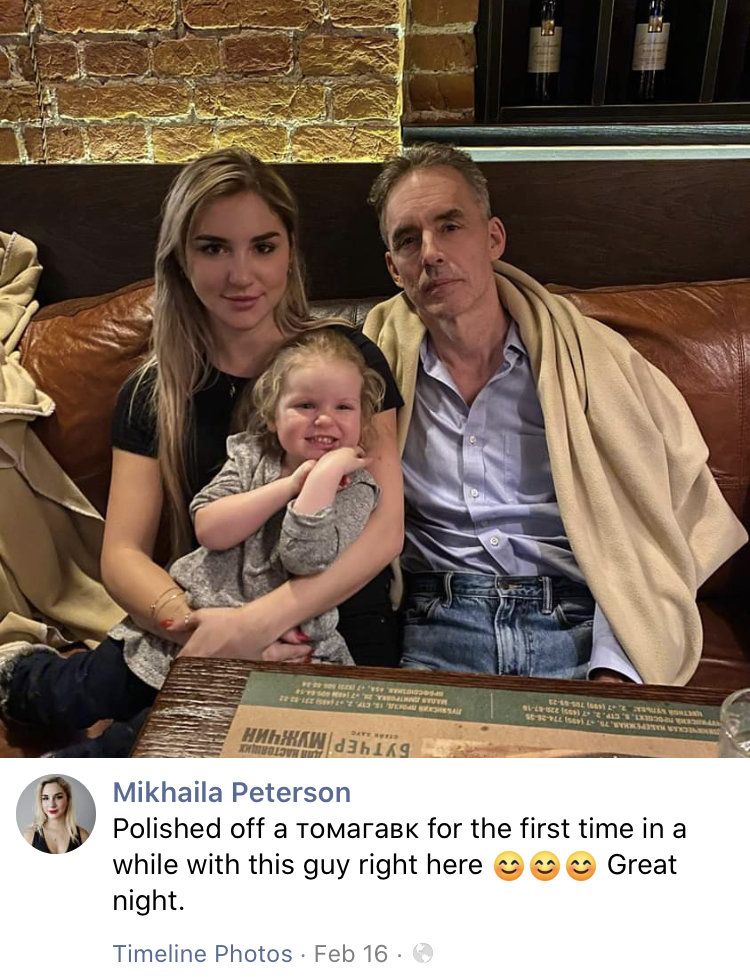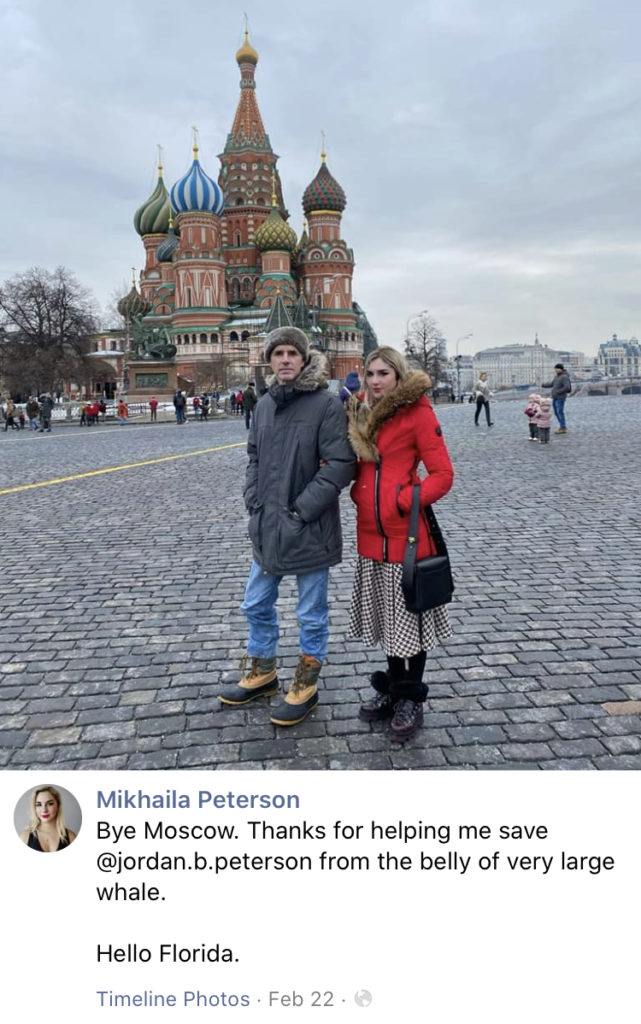 Spring 2020 Facebook Activity
Here is an April 2020 Facebook posting from Dr. Peterson which suggests that he is able to function, while not yet making public appearances. Clearly the Covid-19 pandemic has effectively temporarily suspended in-person lectures for everyone.
Here is his Facebook page: